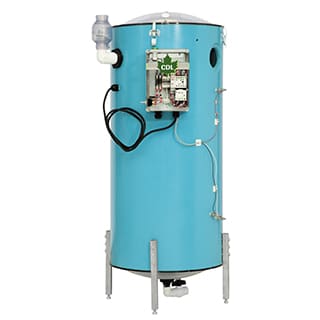 Extractors
Vertical extractors with submersible pump
Equipped with a high quality pump, CDL vertical extractors with submersible pump allow you to replace a mechanical extractor on tank to keep the entry of high mainlines. The extractor has also allows pumping long distances while working at high vacuum. It is the best option if you want to increase your performance due to their reliability without changing your current tubing network.
Advantages
Opening on top for easy cleaning.
No sap-return in the 5/16" tubing.
High quality submersible pump.
No float design, extremely reliable.
No air in the tubing system while extracting sap.
Solves the sap extraction problems caused by pumping at high vacuum.
Ask for a quote ›
2036ES

18″ x 40″ 1/2 HP Without manifold

203608ES

18″ x 40″ 1/2 HP With manifold

2036ES2

18″ x 40″ 1-1/2 HP Without manifold

203608ES2

18″ x 40″ 1-1/2 HP With manifold

2036ESD

18″ x 40″ 2 x 1/2 HP Without manifold

203608ESD

18″ x 40″ 2 x 1/2 HP With manifold

2036ES2D

18″ x 40″ 2 x 1-1/2 HP Without manifold

203608ES2D

18″ x 40″ 2 x 1-1/2 HP With manifold
Categories of related products