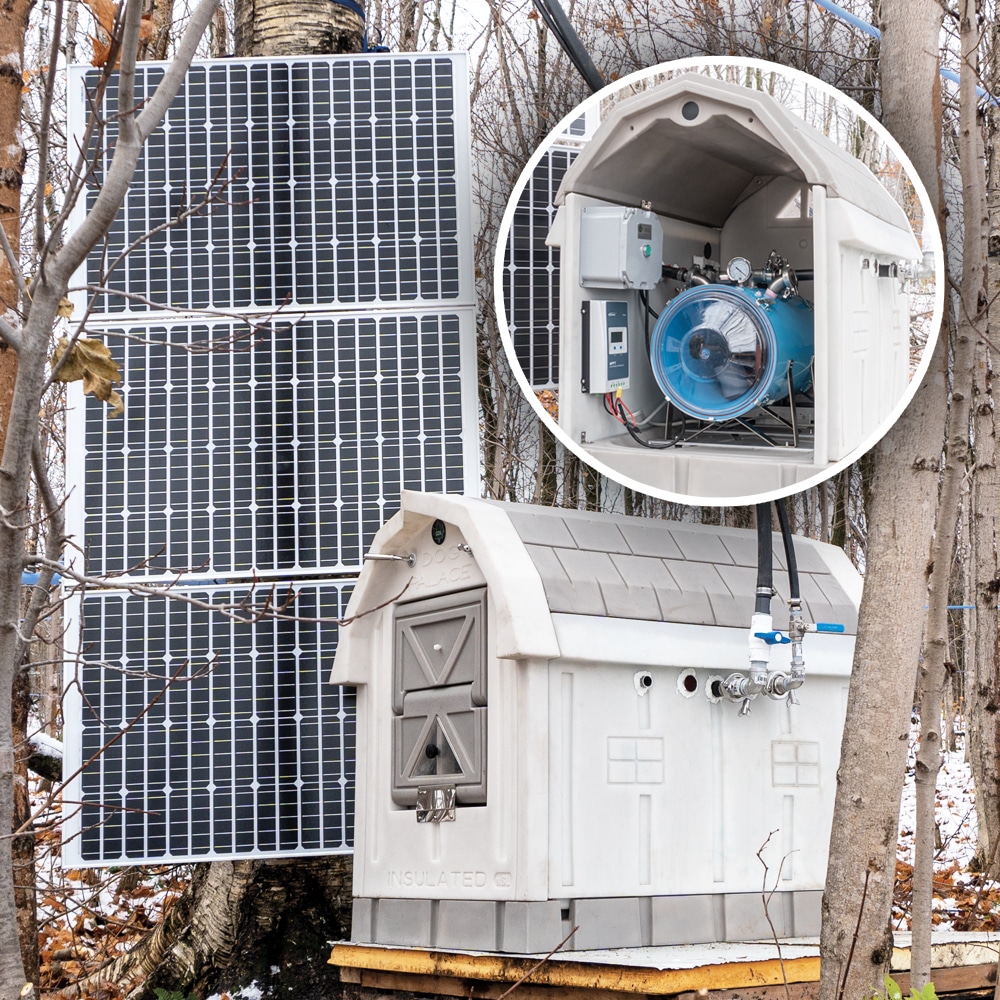 Sap Lifting System
CDL High Vacuum Sap Lifter Kit
The new option to solve freezing, mechanical and leak problems in a reverse slope application. A unique design by CDL!
This equipment is used to lift sap from one pipe to another sloping down to a pump station. The system can lift sap up to 33' depending on the model.
No need to have power, the system works on solar energy. An optional 230V low consumption is also available.
Comes with an insulated shelter to protect the system against any weather.
Access the inside through a small or a large door in the front.
Continuous heating to prevent freezing (with a safe propane pilot for 12V model or electric element for 230V models).
Mainlines entry completely reversible.
Leak free system that won't freeze to reach maximum vacuum.
Easy installation and maintenance using quick connects.
100% autonomous installation
Patent pending
Included in the kit:
High quality insulated plastic shelter to withstand bad weather
Reliable system using a submersible pump
Quick connect electrical components
1 foldable (in 3 sections) solar panel for easy transportation and installation, giving 300 watts of charging capacity (solar model)
2 batteries (solar model)
4 available models:
12V solar model (73800012V1P)
From 200 to 700 taps*
230V electric model with 1 pump (7380002301P)
From 300 to 1000 taps*
230V electric model with 2 pumps (7380002302P)
From 600 to 2000 taps*
230V electric model with two 280GHP pumps in series (7380002302P-HP)
From 275 to 875 taps*
Max 33 feet of elevation
* May vary depending on vacuum level.
Ask for a quote ›
73800012V1P

12V solar model - CDL High Vacuum Sap Lifter Kit

7380002301P

230V electric model with 1 pump - CDL High Vacuum Sap Lifter Kit

7380002302P

230V electric model with 2 pumps - CDL High Vacuum Sap Lifter Kit

7380002302P-HP

230V electric model with two 280GHP pumps in series - CDL High Vacuum Sap Lifter Kit
Categories of related products